The time has come to sell your classic car, and you've come to Dyler to do help you with this. Thank you for choosing us.
Whether you're a dealer or an individual vendor, you're just a few steps away from connecting with classic and modern classic enthusiasts looking to buy their perfect car. The only thing you need to do is create a car ad.
To get started, follow our easy step-by-step guide below.

1. You first need to go to Dyler and head to the sign-in feature in the top right corner of your screen. If you do not have an account, then select Create Account.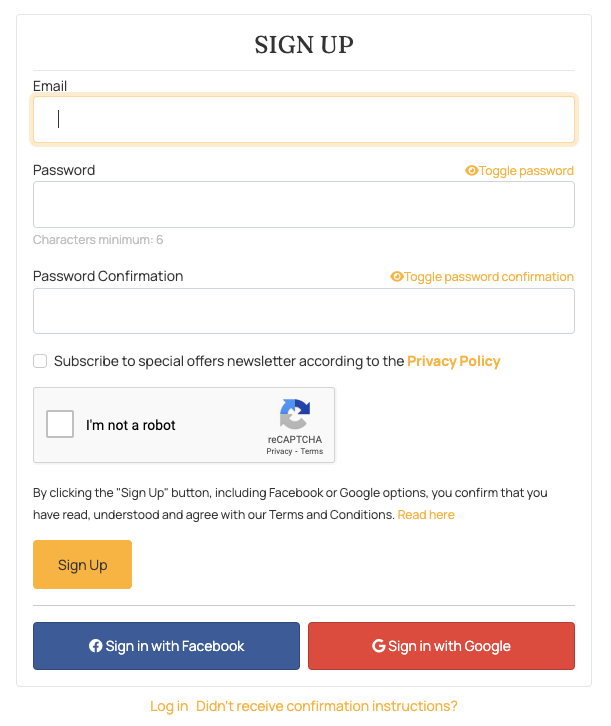 2. You can set up your Dyler account in one of three ways:
2a. Set up your Dyler account and sign in using your email address and a password
2b. Use your Google account to create and sign in to your Dyler account
2c. Use your Facebook account to create and sign in to your Dyler account.
3. In the top right corner of your screen, click the Place New Ad button in the top right of the screen.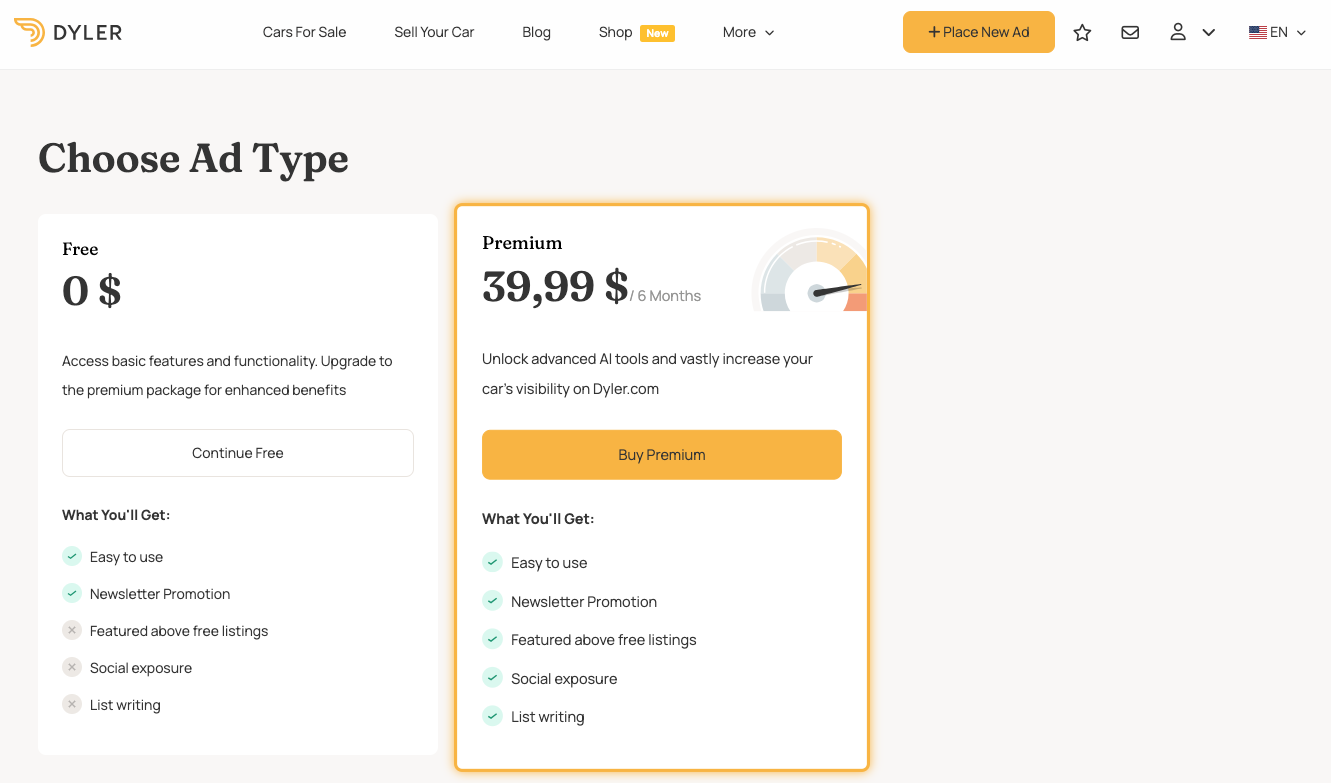 4. You should now select the type of advert as "Free" or "Premium".
5. Once you are on the page, scroll down to begin uploading your vehicle details and be sure to do so as accurately as possible. If you are an independent vendor, it is also important to ensure that you obtain a realistic value on your vehicle before entering the price. You can also select between EUR, GBP, and USD as your preferred currency. The sections marked with an asterisk should be completed.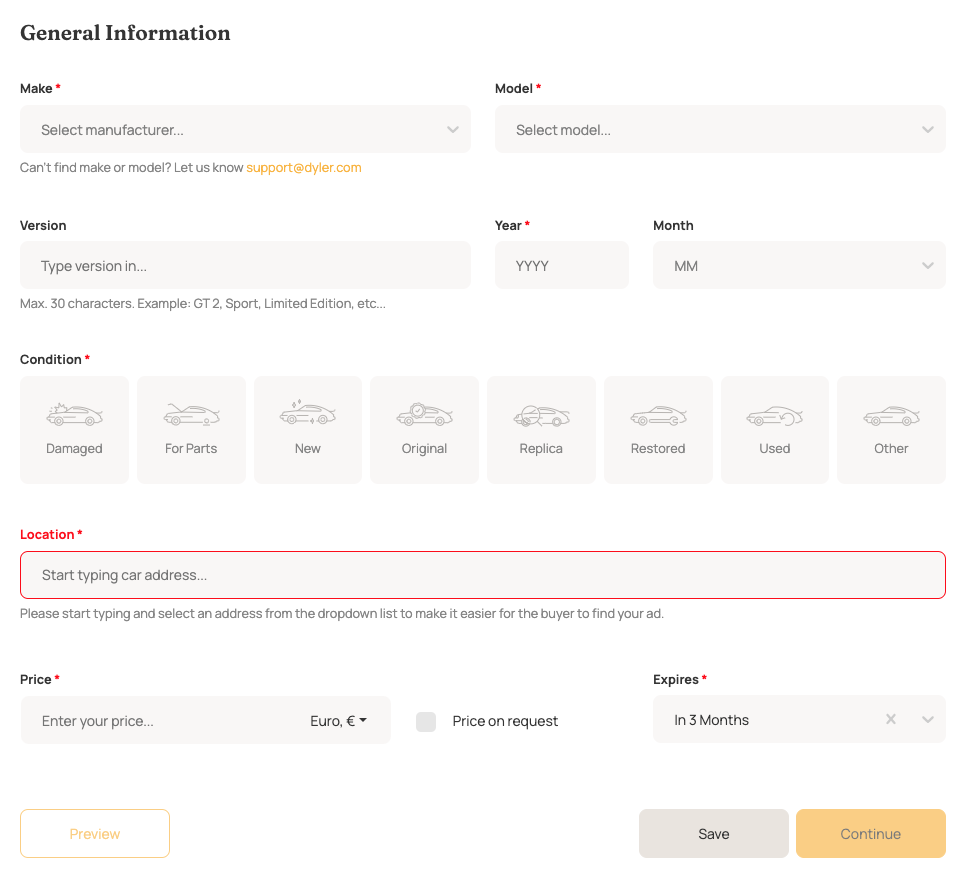 5. You've now finished the first page! If you're happy with the information you have entered, click Continue. Meanwhile, press Save if you'd like to return to it later.
6. Now, you're ready to move to the next page. Click the "Continue" or "Details and features" button on the left side. Get ready to fill in the details about your vehicle, so please have them to hand - it will make the process much, much simpler.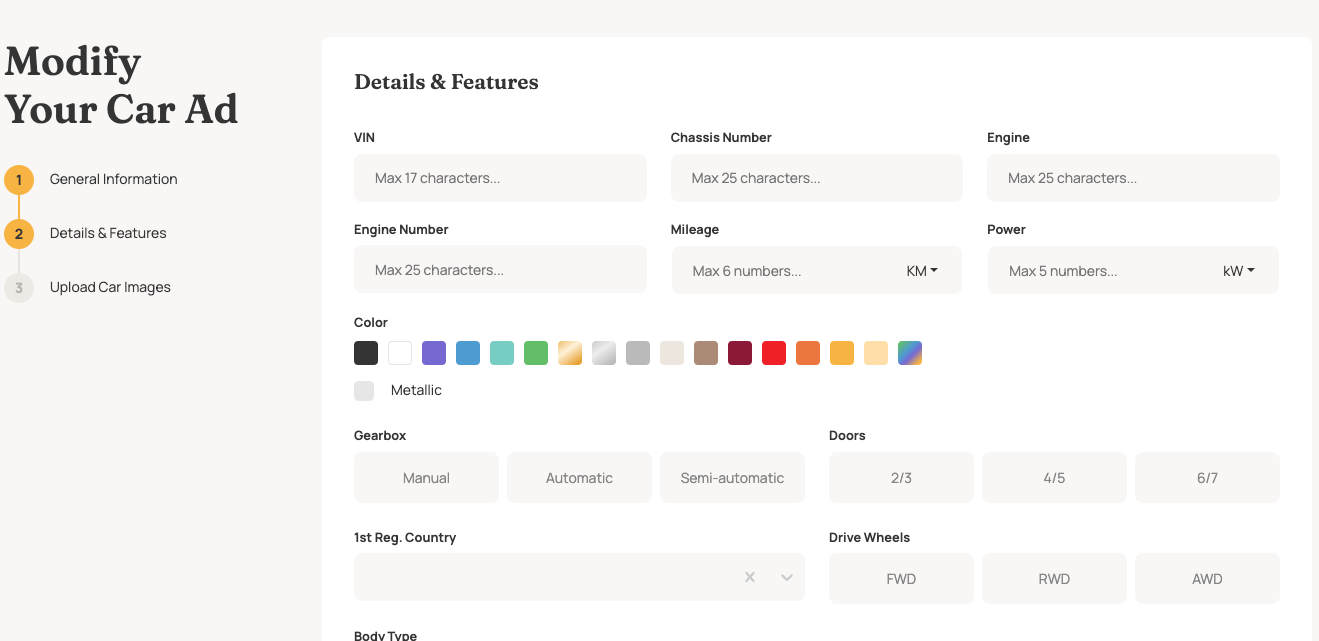 7. The most important thing here is to have your VIN (Vehicle Identification Number). This will help us identify your vehicle. Please look at the screenshot below to learn more about the VIN if you need it.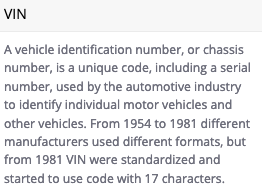 Once you have done this, fill in the rest of the empty fields as best as you can.
8. Scroll down to continue filling out the fields on this second page. Once you are at the bottom of the page, you will need to fill out a 5,000 character description of your car. The more informative and enjoyable the description is, the better. However, do tell the truth - lying reflects badly on us and you.
If you choose the Premium ad type, you will be able to use the AI description generator. Answer 5 questions and a description will be generated for you. If you don't like it, you can regenerate it or not use it.
9. Once again, if you're happy with the information you have entered, click Continue. Meanwhile, press Save if you'd like to return to it later.
10. Now you're ready to complete the final page. This is the step where you'll need to upload photos of your car.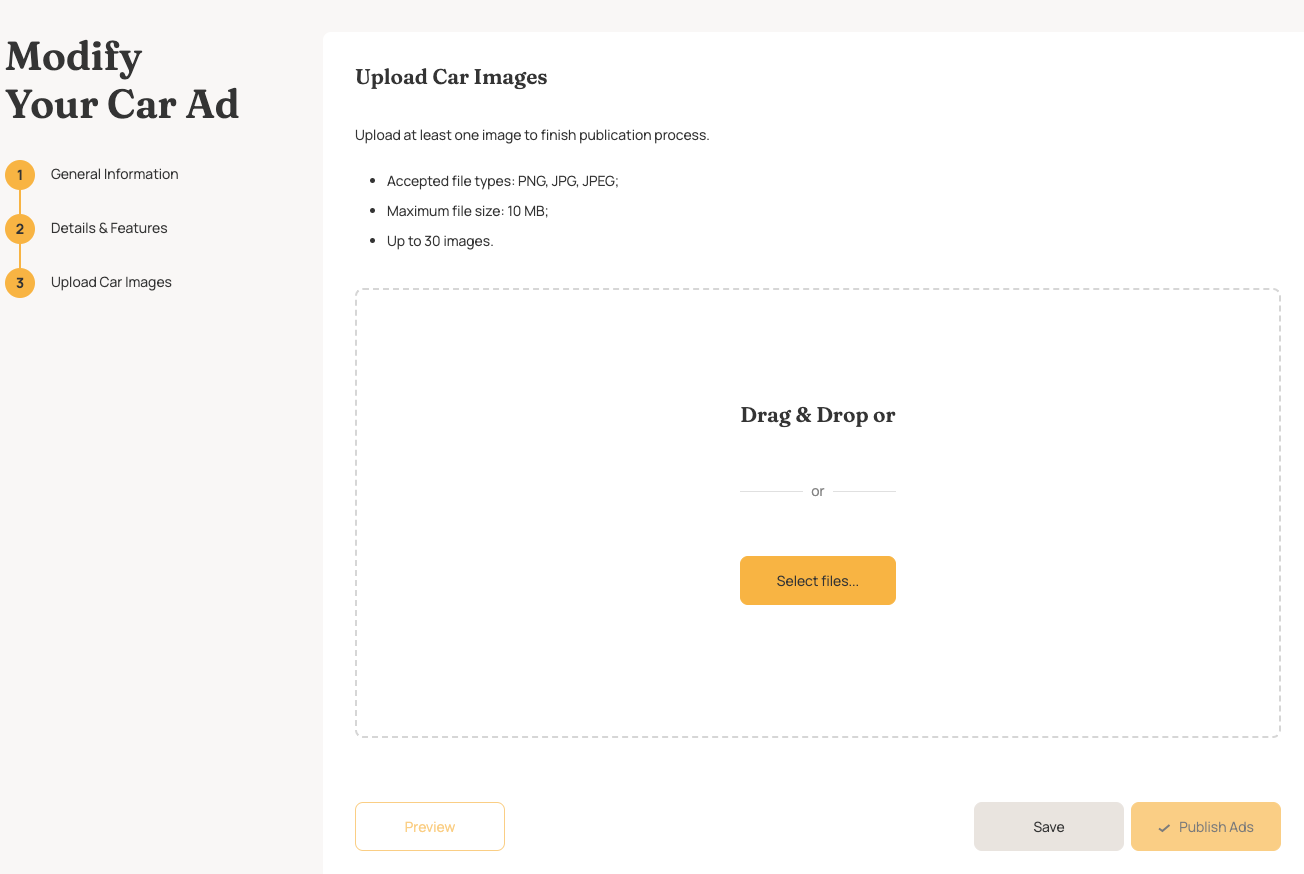 11. Dealers and individual vendors can upload up to 30 photos in PNG, JPG or JPEG format. Each photo cannot be more than 10 MB and may be uploaded using the standard select file format, or by using drag and drop. The first photo to be uploaded will be the main photo for your ad.
11a. To change the main (first) photo, just switch the locations of your photos.
11b. The recommended size of your photos should be at least 500 pixels x 500 pixels.
11c. The higher-quality the photo, the more chance you will have of finding a buyer for your car. In short, ensure that all photos are well lit and do not cut any parts of your car off. Halved rooflines and shortened c-pillars are a big no-no.
11d. If you need any further information on the best photo and description practices, please follow this link.
12. Once you are happy with the photos you have uploaded, click either Save to come back to them later, or Publish Ads if you want to make it live.
13. You're done! Your car ad is now live.
Please click here to read our tips on how to sell your classic car quickly. This will help you with writing a description for your ad. We have also written some suggestions about the photos you should take for your ad.

We very much hope that you found this guide easy to use. If you have any further questions about uploading your car ad, please do not hesitate to contact us at support@dyler.com.